European Structural and Investment Funds boost growth and jobs and help build everything from transport infrastructure to schools, housing, water and power supply and fund other community improvement projects. But with vast expenditures, opportunities for public money to be lost through fraud, corruption and mismanagement are rife.
We're working to stop it.
Externally hosted content may include ads. These aren't endorsed by or reflect Transparency International's views.
What's at stake
Five billion euros.
According to experts, that's what corruption in public procurement could be costing the European Union (EU) each year. This financial black hole has disastrous consequences: when clean and competitive companies know that a contract to build a hospital or school is rigged, why bother to bid? The losers are clear: communities who endure bad services, and EU taxpayers whose money disappears.
In 2015, we teamed up with the European Commission to tackle corruption in public procurement in EU-funded investments. Our pilot initiative explores the potential of civic monitoring on a large scale and to promote more transparent and accountable use of EU funds through Integrity Pacts – signed commitments between public authorities, companies bidding for a contract and civil society.
What's an 'Integrity Pact'?
An Integrity Pact is both a signed document and approach to public contracting which commits a contracting authority and bidders to comply with best practice and maximum transparency. A third actor, usually a civil society organisation (often one of our chapters), monitors the process and commitments made.
Integrity Pacts
What we're doing
We're bringing together government agencies, private sector and civil society in 11 EU countries to ensure that 18 major public contracts are designed and implemented to the highest possible standards of transparency, accountability and efficiency, according to the public interest.

By setting precedents for clean practices in the public procurement process, we also aim to contribute towards greater confidence among the public, government agencies and the private sector that funds are being spent efficiently and as they should – and that redress is possible if corruption does occur.
An Integrity Pact is a tool developed by Transparency International back in the 1990s as a method for preventing corruption in public contracting. It is essentially a document signed between a contracting authority, bidders and an independent monitor. Legally binding, it commits all parties to comply with anti-corruption best practice and allows the monitor to make sure this happens. Monitors follow the whole procurement process – from design to implementation. They commit to maximum transparency and all monitoring reports and results are made available to the public on an ongoing basis.
In addition to the Integrity Pacts, this project draws on international open contracting principles, and engages communities, social groups and professional associations directly affected by a specific public contract; those who live near to where a flood reservoir, highway, hospital or other facility is being built, for example.

These social accountability mechanisms are necessary for building trust in the public procurement process and ensuring that these big projects reflect the public interest, particularly the interest of those communities and groups most affected by the project. That means engaging these communities in monitoring the procurement along as many phases of the project (from pre-tender to implementation and evaluation) as possible.

We aim to help achieve broader and deeper scrutiny of public contracts than previously possible, and to bring citizens much closer to the process, working with individuals in the public and private sector to safeguard European money and improve trust and efficiency in public contracts.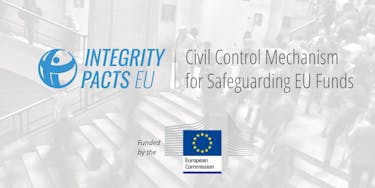 During the G20 Summit in Osaka, the G20 Compendium of Good Practices for Promoting Integrity and Transparency in Infrastructure Development is published, which features Integrity Pacts as an effective collaborative approach to assessing and mitigating the risk of corruption in infrastructure development.
Read more
The EU and national governments have come up with an ambitious pan-European improvement project meant to connect the continent with a modern and efficient transport network. One of the nine routes is called the Orient/East-Med Corridor. It will run through nine countries, from Greece in the south, through Bulgaria, and north to Germany, connecting the ports of the Black Sea, Aegean Sea and Mediterranean to the North Sea at Hamburg.
In western Bulgaria, the 150km Struma motorway is a key link in this network. It carries the heaviest volume of traffic of any route crossing Bulgaria in the north-south direction. One particular section that needs modernising connects six of the largest cities in the western part of the country, and the Road Infrastructure Agency of Bulgaria is undertaking a massive infrastructure project to improve it.
However, Bulgaria has struggled to overcome widespread corruption in public procurement following the country's transition to democracy. Another recently-built link in the Corridor, the New Europe Bridge over the River Danube, was not controversy-free, going both over time and over budget.
Transparency International Bulgaria is using an Integrity Pact signed with the Road Infrastructure Agency to monitor the design and construction of a €128 million tunnel near Zheleznitsa village, along the Struma motorway. This is an important section of the motorway, as the tunnel – almost 2 km long – is expected to be the longest in the country.
The Czech Republic is set to receive €24.2 billion in EU funding between 2014-2020 but audits carried out by both the Czech national Audit Authority and the European Commission have repeatedly uncovered large-scale challenges in the management of EU funds. In 2012, such discoveries led to payments interruptions for all EU-funded Operational Programmes in the Czech Republic.
As a result, the Ministry for Regional Development came up with a plan and introduced MS2014+, a unified monitoring system for the administration of European subsidies. The online platform aims to bring transparency in the allocation of EU funds for 2014-2020 and provide more clarity of information for applicants and beneficiaries.
MS2014+ has significantly simplified much of the management and distribution of EU funds in the Czech Republic. At the same time, it has been a big undertaking and not without its challenges. Now the system is being improved so that it is functional, stable, reliable, and meets user requirements. Transparency International Czech Republic has implemented an Integrity Pact and successfully completed the monitoring of the tendered work. Although highly technical, the project has an impact on all EU-funded investments in the Czech Republic – meaning that the roads, schools and hospitals built using EU funds will all rely on it.
Almost every winter, heavy rains in Athens cause devastating floods that sweep away cars and ruin households and businesses. A combination of population growth, urbanisation and poor planning means that streams and rivers that used to carry away heavy rain falling in Athens have been covered over and the water has nowhere to go. Wild fires that hit the Attica region in summer time and destroy woodlands exacerbate the problem. In 2015, the damage was particularly extensive. One man died and many lost their homes and cars. The situation was not much better in 2013, 2014 or 2016.
In response, the Region of Attica is implementing a series of anti-flood projects that will upgrade existing networks or connect them with new ones. Among these is a project to create a massive and complex network of pipelines to carry flood water safely away from the municipalities of Aghios Ioannis Rentis-Nikaia and Tavros-Moschato. The two municipalities have secured more than €12.5 million in funding from the European Union to do this.
Transparency International Greece, working with the Attica Region, is implementing an Integrity Pact to monitor the procurement process – from the launch of the tender and evaluation of bidders to the construction work itself.
Similar large scale public works frequently face challenges in Greece. In May 2016, the Hellenic Competition Commission launched an investigation on alleged collusion regarding tenders for public works dating as far back as 1989 and imposed fines on companies involved (press release 4/8/2017) totalling €80.7 million.
Using Integrity Pacts is one way to help prevent further misuse of public funds.
The Integrity Pact cannot eliminate corruption but by allowing an independent eye at all stages of a public contract it can prevent and correct problems if they arise. Above all it highlights the constructive role civil society can play as part of the process and provide the public with an opportunity to understand how they can be part of it and push for more access to information, participation, good governance and timely and proper implementation of public contracts
Eugenia Papathanasopoulou
General Secretary to the Board of Directors, Transparency International Greece
Calabria
Famed since antiquity for its great wealth and luxury, Sibari had become a lost city, buried without a trace somewhere in the silt of the Crati delta alluvial plain in the toe of Italy. It wasn't until the mid-20th century that archaeologists were able to rediscover the ruins of the 2,800-year-old Greek city. It is one of the most important archaeological sites in southern Italy.
Now the Ministry of Cultural Heritage is undertaking two major science and tourism projects to preserve and rejuvenate Sibari. Worth a combined €2 million, the first project involves the modernisation of Sibari's Museum; the second project will allow visitors access to a Roman-era religious temple known as the "White House", which was discovered by archaeologists during recent excavations.
ActionAid Italy is monitoring both contracts using an Integrity Pact, initially in partnership with two independent civil society organisations - Monithon and Gruppo Abele. ActionAid Italy is working to make sure that important ancient history is persevered and that local communities can benefit economically and socially from their heritage.
Externally hosted content may include ads. These aren't endorsed by or reflect Transparency International's views.
Lombardy
When organised crime interferes in the competitive process by controlling and limiting the number of available local vendors, or when poorly selected contractors perform low quality work, taxpayers frequently pay more than necessary for the construction of public services. Transparency International Italia is implementing two Integrity Pacts together with government and business to ensure that corruption, crime and bad governance don't stop taxpayers' money from going where it needs to.
In the Lombardy region of Northern Italy, Transparency International Italia has successfully completed the monitoring of a €3 million tender for technical support in the local administration of the European Social Fund, which promotes EU-wide employment. During the project, Transparency International Italia verified time, cost, payments, as well as any changes from the original plan, and published monitoring reports.

Sardinia

Cagliari, Sardinia's main city, is missing one last link before it can boast a fully integrated public transport system. The final 2.5 km extension of the city's tram service between Piazza Repubblica and Cagliari railway station will connect the tramway with the transportation hub of the city.
Infrastructure is one of the sectors most vulnerable to corruption in public procurement in Italy. Given the large investments involved, this area is exposed to corruption and infiltration by organised criminal groups.
Transparency International Italia's Integrity Pact implemented with Sardinia's Transport Agency allows civil society to monitor and report on each phase of the €20 million project. In collaboration with local civil society associations, Transparency International Italia organises regular workshops and civic monitoring schools to engage citizens in monitoring the construction of the city tramway.

Externally hosted content may include ads. These aren't endorsed by or reflect Transparency International's views.
Sicily
Sicily has long been the setting of organised criminal activity and even today socioeconomic factors and weak policies leave public funds susceptible to graft. But that's starting to change. In recent years, more than two dozen municipalities in the Madonie area have joined forces to enact stronger procurement safeguards.
21 municipalities joined a Union called "Unione Comuni Madonie", to share resources and public services and to act as a single purchasing body. This Union is the contracting authority of a €39 million development project of the National Strategy for Inner Areas (SNAI) called "Madonie Resilienti: Laboratorio di Futuro" (Resilient Madonie: laboratory of the future). With about one-quarter of the Italian population living in remote areas far from vital services, SNAI aims to develop education, health, and transport infrastructure in the countryside. Amapola is working with local authorities to implement an Integrity Pact and monitor public procurement procedures selected from two crucial development areas: energy efficiency and education.
Amapola is also carrying out awareness-raising activities targeting the local youth. Through a work-related learning project, students are involved in the monitoring of procurement processes and are provided with tools to become active citizens.
Externally hosted content may include ads. These aren't endorsed by or reflect Transparency International's views.
Systemic corruption in Hungary's public procurement system adds more than 20 per cent to the cost of government contracts. Since joining the European Union, the nation has made strides in introducing new anti-corruption rules, but relevant laws have loopholes. In many cases, the private sector trust in public procurement processes is so low that they don't even bother to bid. In this context, Transparency International Hungary has signed an Integrity Pact to monitor two high-profile projects. The goal is to show that transparency, accountability and good governance measures result in cost savings and better services from public contracts – not only for taxpayers, but for the government and the private sector too.
Transparency International Hungary is not new to Integrity Pacts. They have used the tool in the past to monitor projects in collaboration with the National Bank of Hungary and local authorities in Budapest. Thanks to the IP, costs across the five projects were lowered by 36 per cent.
M6 highway

Highway construction and maintenance in Hungary are notorious for corruption. The M6 highway is a case in point. The 193 km motorway runs from Budapest to Pécs along the River Danube through a rolling landscape of farms and vineyards. During its construction in 2009, corruption-driven crimes lead to the theft of batteries, clods of earth, fuel and concrete. When the main stretch of the road was finally completed in 2010, one of its tunnels collapsed under the weight of the first rainfall. This suggested the materials used and quality of the engineering were not up to standard, and corruption was alleged to have played a role.

In February 2011, one billion HUF (€3.25 million) worth of fictitious invoices were discovered by the inspectors of the National Tax and Customs Administration Office during an audit of the construction of the section between Dunaújváros and Szekszárd. The final stretch of highway construction between Boly-Ivandarda and Hungary's border with Croatia will cost about €157 million. Transparency International Hungary is monitoring the project in the hopes of ending the catalogue of corruption scandals.

Tisza-Túr flood reservoir

The regulation of the Tisza River was a grand 19th century building project that began in 1846 and lasted for almost 40 years. It was Hungary's first step in managing flooding along what was once known as "the most Hungarian river".
Recently, recurring and devastating flooding along the Tisza near its confluence with the Túr River has necessitated a €89 million project to construct several new emergency reservoirs. Transparency International Hungary is implementing an Integrity Pact to help ensure transparency and accountability in the construction of the Tisza-Túr flood reservoir, one element of the flood protection system.
It is a really encouraging sign that the General Directorate of Water Management has been willing to work with Transparency International Hungary to promote integrity in Hungarian public contracting. The public procurement landscape is very vulnerable to corruption risks but cleaning up the system benefits everyone involved.
József Péter Martin
Executive Director of Transparency International Hungary, at the Integrity Pact signing in May, 2017
The first horse-drawn tram started taking people around Riga, the capital of Latvia, in 1882. Today's network of trams is still the most used form of public transport for the city's 800,000 population but the horses are now long gone. Over the years it has been updated and expanded – with electric trams coming into service before the First World War – and last year a further 128m Euro refurbishment plan was approved that includes support from the European Union. This project is also part of an EU-wide pilot to strengthen accountability in public procurement. Every year in Latvia, nearly 15 per cent of GDP is estimated to be wasted due to corruption – that's more than EUR 2 billion.
On the Riga Tram project however, Transparency International Latvia acted as an independent monitor to ensure that the money is well-spent and accounted for.

The Integrity Pact was signed in November 2016. The process is relatively simple. Transparency International Latvia will work with the Riga municipality to monitor the design and development of the project and the whole tender and construction process from start to finish. There will be a report at the end and citizens will also be invited to hold their municipality accountable.
In May 2019, the Central Finance and Contracting Agency of Latvia – the government authority tasked with supervision of EU-funded projects – announced the decision to unilaterally terminate the Riga tramline project due to suspicions of fraud, mismanagement and unacceptably high risks. The authority's decision draws on an external audit report scrutinising the activities of Riga Satiksme – a city- owned company that managed the project. The Central Finance and Contracting Agency of Latvia has ordered Riga Satiksme to return nearly half a million Euro received for the project by August 2019.
At the end of last year, a joint investigation with Polish authorities led to a high-profile bribery case concerning another of the company's projects, resulting in resignation of Riga's deputy mayor and suspension of the mayor as well as arrests of staff.
Transparency International Latvia, as an independent monitor on this project, was able to identify and act on corruption and competition risks on numerous occasions, and with some success. In February 2019, the watchdog complained about restrictive tender requirements in the tram procurement process.
This is a great opportunity for Transparency International Latvia and the Riga Municipal authorities to work together to build public trust
Janis Volberts
Executive Director, Transparency International Latvia
The Neris River runs through the centre of Vilnius, Lithuania's capital, and its banks are one of the most beloved public spaces in the city. Now the Vilnius Municipality plans to revitalise the riverside area with new paths, cycle lanes, and amenities.
The total budget for the project is EUR 10.5 million. To make sure that this money is spent in the best interests of the people of Vilnius, the municipal authorities have committed to work with Transparency International Lithuania via an Integrity Pact to open up the process to greater public scrutiny. Transparency International Lithuania will seek to make the spending more transparent to help ensure the money earmarked for the project is well spent.
Last year the Lithuanian government spent over EUR 4 billion on public contracts – that's over 40 per cent of the Lithuania's 2016 national budget. However, as the Public Procurement Office only has the capacity to thoroughly evaluate around 3.4 per cent of high-value procurement procedures, space for corruption in the public procurement process remains a threat.
Transparency International Lithuania is building a team of relevant experts in contracting and legal issues to ensure that it will have the relevant experience to follow the project step by step. One important issue is to ensure than none of the participants have any ties with the contractors or the authorities to ensure that there are no conflicts of interest. Transparency International Lithuania also intends to hire engineers for the construction consultancy.
The southern Polish town of Zawiercie has a history that it intricately linked to the railway. The town boomed in the 1840s when the Warsaw-Vienna Railway, which passed within a kilometre of the town, was completed and placed it firmly on the north-south trade axis. But like the Warsaw-Vienna line, the vast majority of Poland's roughly 20,000km of railway was built in the late 19th and early 20th centuries.
Although the network is extensive, its age and lack of maintenance means that it is often out-competed by buses and cars when people choose how to travel. On most Polish trains it is not possible to travel more that 160km/hr. Compare this to neighbouring Germany where trains regularly travel at 300km/hour and it is clear why the European Investment Bank has invested almost EUR 2 billion into modernising Poland's railway since its entry into the EU in 2004.
Poland has come a long way in fostering good governance, but recent scandals have highlighted the need for more transparency in public procurement. In March 2017, the government dismissed the board of Polish State Railways (PKP Polskie Linie Kolejowe) for mismanagement due to an ongoing investigation into a EUR 440,000 deal with a Warsaw business that is suspected to have caused losses.
Now the railway around Zawiercie is again attracting attention. The latest plan is to modernise the 44km section of railway connecting Zawiercie to Częstochowa, another town on the Warta River in the Southern part of Poland. For this latest round of modernisation, the Polish Railways Line (PLK) have signed an Integrity pact with the Stefan Batory Foundation who will monitor the EUR 130 million project to make sure that the money is spent properly and in the public interest.
The Directorate General of Cultural Heritage has a mission to safeguard and preserve Portugal's important historical treasures. Amongst these treasures, the Alcobaça Monastery stands out as a wonderful example of Portuguese architecture. With areas of the structure dating back as far as the 12th Century, the site retains many of its medieval features. Careful restoration and preservation is therefore essential in order to safeguard the future of Alcobaça, which is also one of the most important and most influential Cistercian centres in the Iberian Peninsula. The Directorate's role is to ensure that such significant site is managed and preserved, and that sustainable access is maintained for academics and the public alike. As a result of its unique history, the Monastery has been inscribed as a UNESCO World Heritage Site.
With large numbers of tourists making their way to Alcobaça, the works will help protect the intricate designs of the building for visitors, including the famous tombs of King Pedro I and Inês de Castro commissioned by King Pedro I after the dramatic love story that would later inspire many poets and artists. The work is being overseen by the Directorate and is anticipated to cost around €1 million euros.
In an effort to improve transparency and efficiency of the funding, the project will include an Integrity Pact. This is to ensure that best practice is promoted in these building works, and falls under the EU's Integrity Pacts pilot project. This means that, amongst other measures, key information relating to the procurement should be made available to interested citizens.
The Directorate General of Cultural Heritage is the only public organisation in Portugal so far implementing an Integrity Pact. The Alcobaça Monastery project will therefore act as a case study and a tool that can be shared with other public institutions, and hopefully provide some benchmarks to take forward onto other public procurement. It is hoped that lessons learnt in the implementation of this project can be translated across to other publicly funded works, in order to boost transparency and value for money.
Corruption in Romania has improved significantly since joining the European Union thanks to aggressive enforcement from its National Anticorruption Directorate and outside factors, such as monitoring from the EU. Even so, graft in public procurement remains a worrisome problem affecting public confidence in the former communist state. Transparency International Romania, the Institute for Public Policy and the Romanian Academic Society are using integrity pacts to monitor three projects covering education, land registration and the distribution of EU funds.
Digital library
The Ministry of Culture and National Identity are keen to create a platform that brings together cultural heritage within the Digital Library of Romania. The project will work to digitise cultural artefacts, enabling their exposure online and for a wider audience to enjoy and study. By doing this, analogue cultural heritage will be given a new, digital lease of life. In time, this will allow both the general public and cultural institutions to access hundreds of thousands of cultural items, ranging from text and audio, to 3D objects and videos. Such heritage is currently only available to view in person, and it is hoped that this will boost its accessibility.
The Ministry of Culture and Identity is overseeing the project, which will include staff training on digitization techniques, and publicity activities to ensure that information about the work is accessible to the public. The project is being implemented between 2018 and 2022, and will be accompanied by an Integrity Pact. The Ministry hopes that this will help to mitigate risks associated with the project, and boost the amount of oversight and scrutiny that the procurement will receive. IT procurement projects in Romania have a checkered past, and have been subject to several serious corruption issues. The complexity of such IT projects, as well as the sum of money involved, mean that they are particularly worthy of inclusion in the Integrity Pact pilot.
National education platform
The Ministry of National Education and Scientific Research together with the Directorate General Programmes for Competitiveness want to create a platform and a centralized national methodology for the management and collection of information regarding Romanian children's school results and daily current educational activity.
The platform will include a grading catalogue accessible to students, teachers and parents but also systems that will allow the level of the education in certain areas or schools to be analysed. The Ministry wants to be able to use the platform to compare Romania's national school results to similar international test results. The Directorate General Programmes for Competitiveness believes that the implementation of the Integrity Pact in this project will complement the implementation of other risk, fraud and conflict of interest measures and will build increase transparency and trust in Governmental bodies.
Land registration
Romania maintains a massive database of real estate called eTerra. Publicly accessible and easily searchable, the system is important for real estate market transactions and for landowners to access agricultural funds. It also aids in the consolidation of farmland, vital for the ability of farms to compete in the European Union. However, only about 12 percent of "territorial administrative units" are registered in eTerra, leaving a majority of property owners and the public at a disadvantage.
Now, in a project that will run until 2020, the agency that oversees the system is implementing a €313 million project to register properties in 793 "territorial administrative units" in less developed rural areas. In light of Romania's problem of corruption in public procurement, this agency, the National Agency for Cadaster and Land Registration, will implement Integrity Pacts in two out of three components of the process to promote efficiency and accountability.
Distribution and absorption of EU funds
One part of the apparatus directing cash flows from Brussels to Bucharest is the Managing Authority of the Operational Programme for Administrative Capacity (MA OPAC). This office provides technical support to Romanian agencies that absorb EU funding, helping them to strengthen their capacity to receive large amounts of money. The Romanian Academic Society will monitor public procurement processes for three of the MA OPAC's own service contracts: one for a communications and outreach provider, another for a survey assessing the impact of outreach programs, and a third for training programme.
Despite the fact that Slovenia has a fairly well-developed framework for public procurement, practices don't always live up to the rules on paper. Corruption remains a serious issue for which Slovenia has been sanctioned by the European Commission in the past. The Slovenian Commission for the Prevention of Corruption has said that public procurement is a key risk area for corruption and conflict of interest. Energy, construction, urban planning and healthcare are considered particularly susceptible given their close connection to the political domain.
A succession of corruption scandals, some involving the highest levels of government, have caused the public to lose faith in their government. Infrastructure projects are the major source of corruption, but misconduct in the health sector has been particularly high-profile after a prominent surgeon stepped forward as a whistleblower. Hospitals were built incorrectly with little oversight, and equipment costs were many times higher than they should have been. However, in recent years Slovenia has increased its efforts to improve the national procurement system with several ambitious projects that promote transparency and public access to information. This makes the Transparency International Slovenia's work monitoring the energy renovation of the Trbovlje General Hospital through the Integrity Pacts project particularly relevant. Trbovlje is a town with a long history of coal mining 60km east of Slovenia's capital, Ljubljana.
In November 2016, Transparency International Slovenia signed an Integrity Pact with the Slovenian Ministry of Health. The Trbovlje Hospital signed in October 2017. Once the winning bidder has been selected, they will also sign. Transparency International Slovenia will be using the Integrity Pact as an opportunity to get the local community involved so that those closest to the project will be able to make sure their money is spent as it should be.