Global Corruption report: Climate Change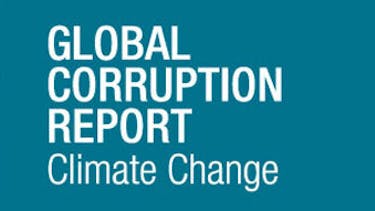 The impacts of climate change will be felt all over the world, in developed and developing countries alike. At risk are billions of dollars but more importantly the lives and livelihoods of millions of people. Corruption cannot be allowed to jeopardise efforts to combat climate change.
Many of those countries judged most vulnerable to the most visible effects of climate change– drought, flooding, storms or rising sea levels – are also countries where experts perceive high levels of corruption in public services. None of the 20 countries deemed most vulnerable to climate change score more than 3.6 on TI's Corruption Perceptions Index (CPI) indicating significant risks of corruption.
Almost 300 million people live in the five countries most vulnerable to climate change – Bangladesh, Honduras, Myanmar, Nicaragua, and Vietnam. By 2015, 375 million people could be affected by climate disasters annually. More on the corruption risks in humanitarian disasters on the TI blog.
Climate Change Governance: reducing corruption risks
Like corruption, climate change is a global problem that demands a global solution. Meeting this challenge will require unprecedented international cooperation both in the developed and developing world.
Transparency International's Global Corruption Report: Climate Change explores climate-related corruption risks and argues that a dramatic strengthening of governance mechanisms can reduce corruption risks and make climate change policy more effective and more successful.
Governments have pledged at least US $100 billion per year by 2020 to be spent on projects and incentives to meet commitments to reduce greenhouse gas emissions and safeguard against the effects of climate change.
How well this money is used and how these measures are managed will determine the effectiveness of global efforts to combat climate change. With so much at stake, it is imperative that all actors involved – governments, civil society, and the private sector – build transparency and accountability into the system from the start.
Where will transparency matter most
The Global Corruption Report (GCR) looks at key areas where transparency will be crucial to combating corruption risks:

How fair and open is climate policy and decision making?
Parts two and three of the GCR investigate the processes involved in deciding who receives and manages climate change funding and how policies are shaped at international, regional and local levels. Although the world's attention gravitates to global meetings like Copenhagen in 2009 or Cancun in 2010, where of over 190 countries and 1000 organisations convene, away from the spotlight many other environmental agreements, already in place, must be managed with transparency and public participation.

Mitigation
Mitigation efforts aim to slow climate change by reducing the amount of greenhouse gases emitted globally. Mitigation efforts include increasing energy efficiency, transitioning to low-carbon technologies and managing complex carbon markets that give polluters an incentive for reducing their emissions but have already been vulnerable to fraud. Part four discusses the corruption risks in mitigation and recommends ways to make mitigation projects more transparent and accountable.
Carbon markets: Managing public assets transparently
In international carbon trading schemes, individual governments can sell carbon credits when a country's emissions are below their pollution targets. In an opaque market, the government mismanagement of credits can go unnoticed. Media investigations in Slovakia revealed that the government sold carbon credits at half their value to a company with links to officials in the ministry that made the sale. They made neither the contract nor the price public. The sale represented an estimated €75 million in lost revenue for the people of Slovakia.
Adaptation
The front cover of the GCR shows sea wall defences in Bangladesh, a low-lying country whose population is already affected annually by severe flooding. With increasing temperatures expected to raise sea levels, large scale adaptation projects to protect populations are urgently required. Part five of the GCR looks at climate-proofing with examples from the Philippines and Kenya and discusses the issue of transparency and governance in adaptation financing.
Climate-proofing against typhoons in the Philippines
The Philippines must deal with about 20 typhoons a year, some deadly, most destructive. In 2009 Typhoon Ketsana obliterated 46,000 homes and left thousands stranded. Although a Climate Change Act is supposed to oversee building flood control defences, the Effective Flood Control system is allegedly suffering from neglect. In addition corruption in the granting of permits and licenses means that land development projects that do not meet building codes and zoning restrictions are nevertheless approved. In these cases, corruption has the potential to undermine adaptation efforts and puts lives at risk.
Forestry
Part six of the GCR highlights good governance as a key factor in the success of financial incentives to conserve forests, especially the UN REDD (Reducing Emissions from Deforestation and Forest Degradation) programme that seeks to reduce emissions caused by deforestation and the subsequent use of forest lands for other activities like farming (more on this on the TI blog). Up to US$ 33 billion a year is expected to flow to countries receiving REDD support once it is fully operational. Yet the forest sector is notoriously corrupt and many of the countries that will participate in REDD suffer from poor governance. Addressing corruption and robust monitoring will be crucial to ensure that forests and local communities benefit from REDD.
What needs to be done
If climate governance is not prepared for corruption, corruption will undermine climate governance. The GCR does not just raise the alarm, it provides a risk map of ways to make climate change measures more effective.
Recommendations include:
All conferences and meetings where climate change targets are set should be open to the people they impact and transparent at the international and local levels
Experts monitoring and verifying projects must be independent and not paid from the budget of the project they are overseeing
All climate measures should have strong, well-resourced oversight bodies
Civil society must monitor government commitments to reduce emissions and be involved in development and oversight of national plans for mitigation and adaptation.
Downloads
Global Corruption Report: Climate Change (full download)
Translations: Español, Français
Press Kit
Climate Change Governance Frequently Asked Questions
Case Studies and National Examples
Resources
United Nations Framework Convention on Climate Change (UNFCCC)
TI Forest Governance Integrity
Civil Society and Climate Change
Climate Governance: Ensuring a Collective Commitment (14th IACC)
Read more stories on the GCR on the TI blog
Keynote speech by Huguette Labelle, TI Chair, at the launch of the report in Dhaka, Bangladesh, 30 April 2011
TI Policy Position #03/2011 Monitoring Climate Adaptation Financing to Ensure Effectiveness
TI Policy Position #04/2011 Safeguarding Mitigation Efforts for Sustainability
Media coverage
Corruption must be cut to protect climate -report
Reuters Africa
Reducir corrupción, clave para proteger medio ambiente: reporte
Reuters América Latina
Climate change spending at risk of fraud and corruption
The Telegraph
Green schemes are 'wide open to major corruption'
The Independent
Korruptionswächter mahnen Klimaschützer ab
Spiegel Online
Corruption threatens Egypt's energy plans: new report
Ahram Online
Corruption threatens climate finance
Deutsche Welle
You might also like...
News •
As a new UN report highlights the risks of global warming, we share highlights from our climate finance integrity talks.
News •
Corruption is making the right to land ever more precarious. Whether bribes for land licences, or nepotistic resettlements, corruption in land management must be tackled. Staff…
News •
Global funds to fight climate change are vital, but is enough being done to protect them from corruption?